Mixed use for County Grounds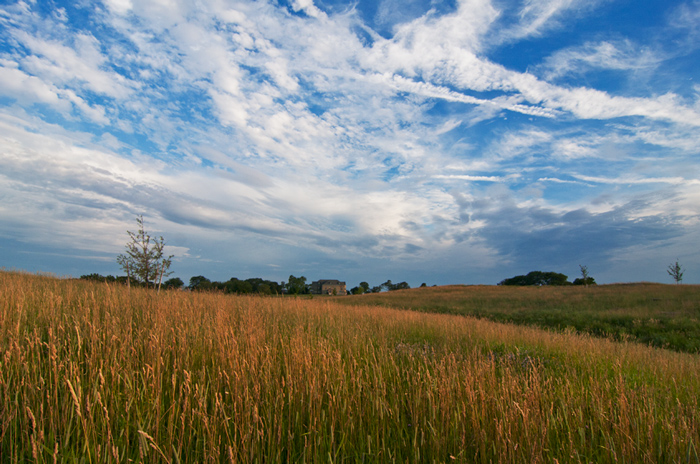 Mixed uses develop at County Grounds
Some years ago, the County decreed that the northeast section of the County Grounds in Wauwatosa – some 270 acres north of Watertown Plank Rd. -– declared surplus and informally designated "parkland" instead should be mixed-use acreage. Delineated uses, according to the County Economic and Community Development staff, include a state forestry education center and demonstration area, two huge flood-control basins, a 65-acre economic development tract, 50 acres for recreational uses and 17 acres for expansion of the freeway interchange on the west side of the property.
POP and others saw this County Grounds section as one of Milwaukee's last undeveloped treasures and wanted it preserved primarily as state forest, part of it a wetland that could soak up floodwater when necessary. Roughly two million cubic yards of dirt were excavated to build the flood-control basins, half of that spread over areas south of Swan Blvd. designated for economic development and recreation. The board earmarked $350,000 for restoring the 50-acre recreation site.
Some time ago Carlos Santiago, then UWM chancellor, backed by a group of prominent Milwaukee businessmen, proposed a UWM research and development campus for the economic development area.
So the County Board approved the sale of 89 acres, which include the 17 acres for freeway interchange revisions, for $13.55 million to an affiliate of the UWM Foundation. This group has had some trouble nailing down funding and has made repeated requests for extensions of the deadline for the first $5 million payment; the latest approved by the County Board moved the deadline to Dec. 15, 2010. The project got a big boost from Michael Cudahy, who had backed off on an original offer of help, but recently agreed to pitch in $2 million.
The Wauwatosa City Council has voted to finance $12 million in roads, sewers and other public improvements to be repaid over time by taxable portions of the development, which will attempt to lure commercial/industrial operations to the campus.
And the federal government recently awarded UWM $5.4 million for the base building that would house university and business research facilities.
Also in the mix is a proposal for UWM to split off 8.4 acres, including the historic Eschweiler buildings that are in need of repair, and sell them to a coalition of preservation and conservation organizations. The coalition would renovate the buildings and turn the rest of the space into an ecological preserve that would save part of a renowned butterfly migration route. Help for this purchase could come from the state's Knowles-Nelson Stewardship Program, designed to save natural areas and wildlife habitat.