Johnsons Park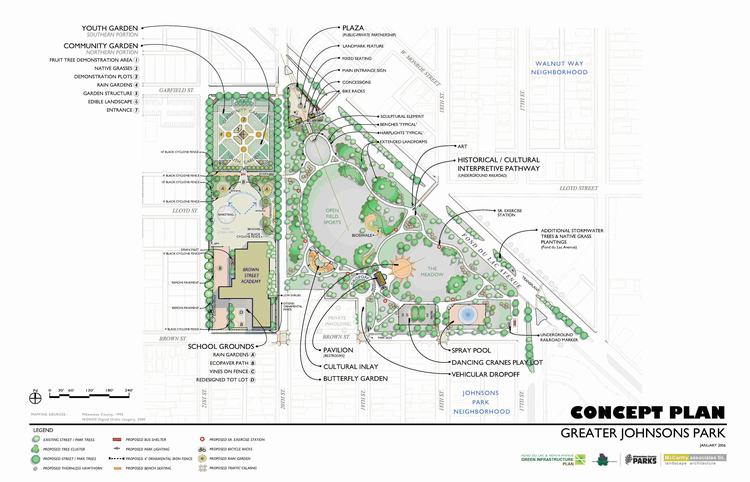 Destined for Stardom
Seeking "environmental justice" for residents of a 300-city-block area centered on Fond du Lac and North Aves in Milwaukee, a private-public coalition has grand plans for the area and its centerpiece, long-neglected Johnsons Park.
The work,which began in late August 2009, will significantly upgrade the park, which extends southwestward of Fond du Lac Ave. between Brown and Garfield Sts. and includes Alice's Garden at 20th and Lloyd Sts., plus the adjacent Brown Street Academy grounds. The $6.2 million project also envisions greening the entire area – encompassing about three-quarters of the blocks bounded by Vliet, 35th and Burleigh Sts. and I-43 – to foster "green" jobs, reduce energy consumption, improve safety, increase property values and make it a more livable neighborhood.
Plans for the park itself include extensive landscaping including curving paths, benches and traditional Milwaukee harp lights, a spraypool, a children's playground, a sports field, an elders' exercise station, a butterfly garden, a small pavilion with restrooms and an Underground Railroad Historical Walk.
The park, named for C. L. and Cleopatra Johnson, community business leaders and benefactors, was once part of Samuel Brown's farm. In July of 1842, 16-year-old Caroline Quarlls, a runaway slave from St. Louis, was hidden there. Her arrival inspired local Abolitionists to organize an "underground railroad" to assist and protect fugitive slaves and Caroline became its first "passenger." Wisconsin became an Abolition leader and Wisconsin's Supreme Court was the only one to rule the Federal Fugitive Slave Act unconstitutional.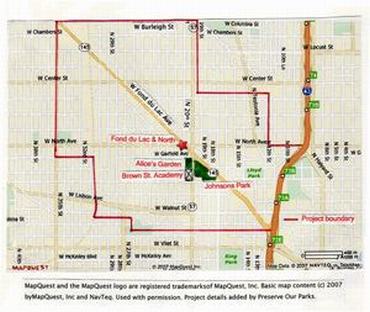 Under the plan, Alice's Garden, which officially is part of the park, would be landscaped and upgraded with demonstration gardens in addition to the community gardens already sited there. The school grounds would be greened and landscaped.
The project includes tree and grass plantings along the boulevarded portion of Fond du Lac Ave. next to the park. It also envisions improvements in the surrounding streets, with more water absorbing trees, pedestrian-friendly crosswalks with disabled ramps, bicycle lanes and offstreet trails, better street lighting, planters, benches and ornamental fencing.
The overall neighborhood is home to roughly 20,000 residents, with average household income less than half of that for Milwaukee County. More than half the homes house children 18 or younger. Rundown and vacant properties dot the area. And the park itself was listed at the bottom of a 2002 assessment of local park amenities and condition of those amenities. All that's there now are some grassy mounds, a weedy ballfield and some dilapidated playground equipment in an area that floods when it rains. This project aims to change that dramatically.
More than 20 diverse partners endorse the plan; they range from governmental to academic, from community groups to specialized organizations. The effort is led by the Center for Resilient Cities (formerly called the Urban Open Space Foundation). Others involved, in addition to neighborhood residents, include the Milwaukee County Parks Department, Milwaukee Public Schools, Brown Street Academy, City of Milwaukee, University of Wisconsin Extension, National Association for the Advancement of Colored People, Johnsons Park Neighborhood Association, Walnut Way Neighborhood Association, The Park People and Preserve Our Parks.
In its planning stages, the project was funded by the US Forest Service, the Forest County Potawatomi Community Foundation, the Milwaukee Metropolitan Sewerage District, the Wisconsin Department of Natural Resources and the Brico and Lux Foundations.
Please click on the following links to download high resolution maps. Please be patient - the files are large and may take a while to download, depending on your connection speed.
About 20% of the funding for Johnsons Park renovation has been raised. Donations are gratefully accepted. Send them, marked clearly for Johnsons Park, to:
Preserve Our Parks
1845 N Farwell Ave. Suite 100
Milwaukee, WI 53202